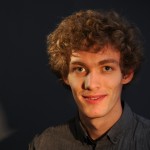 Kai Grinde Myrann
The young Norwegian conductor, Kai Grinde Myrann, has in a very short time established himself as one of his generation's most talented conductors.
He concluded his masterstudies at The Norwegian Academy of Music in the spring 2013, conducting NRK Kringkastingsorkestret in a concert consisting of a programme with among others Stravinsky's "Le Sacre de Printemps".
Immediately after his graduation, he won the position as Assistant Conductor in Bergen as well as Stavanger, where he will be conducting  both Orchestras in the season 13/14.
Ole Kristian Ruud has been his main teacher at The Norwegian Academy of Music, but he has also studied with Jukka-Pekka Saraste, Jorma Panula, Per Sigmund Thorp, Fred Buttkewitz and Cathrine Winnes Trevino.
He has a degree in composition from The Norwegian Academy of Music and has been an exchange student at Hochschule für Musik "Hanns Eisler" in Berlin. In 2010 he co-founded Aksiom, and he has been their Artistic Director since then.
Contact: aksiom [at] aksiomensemble [dot] com