Lynetta Taylor Hansen: flutes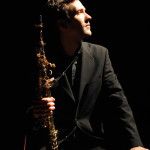 Fredrik Brandstorp Olsen: saxophones
Fredrik Brandstorp Olsen has studied at the Norwegian Academy of Music and at Conservatoire à rayonnement départemental d'Aulnay-sous-Bois in Paris. He is the soprano saxophone player of Current Saxophone Quartet. Fredrik works a great deal with composers in developing new pieces, but also performs in other genres, including early music, free improvisation and big band.
He has played at, among others, the Ultima Festival, SAX.FEST Pärnu 2013, Chambermusicfestival Stuttgart, Vinterlydfestivalen, Scandinavian Saxophone Festival, Tallinn Music Week, Grønland Mikro World Festival and The World Saxophone Congress XVI. In 2011 he was a soloist with The Central Staff band of the Norwegian Armed Forces.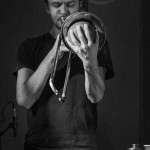 Henrik Munkeby Nørstebø: trombone
Henrik Munkeby Nørstebø (b. 1986) works first and foremost with improvised music and contemporary music, often combined. He is active as a solo performer and as member of several groups, and has toured over lagre parts of Europe with, among others, As deafness increases, Myhr/Nørstebø, Raymond Strid/Nina de Heney/HMN and Whirl (w/ Tobias Delius). He also performs with free-jazz pop group Skadeyr, chamber jazz ensemble Dan Peter Sundland 11et, and also in duo projects with Rasmus and Daniel Lercher. Henrik holds a bachelor's degree in jazz/improvised music from Gothenburg Music Academy, and is now studying for master's degree within the same field at the Norwegian Academy of Music in Oslo.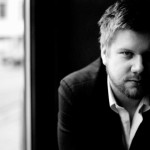 Anders Kregnes Hansen: percussion
Anders Kregnes Hansen (1983) plays percussion with particular focus on contemporary music and musical theatre. He excels both as a chamber musician and as a soloist. As a freelance musician Hansen has played with many of the professional symphony orchestras in Norway, and is a permanent member of Ensemble Aksiom and Oslo Sinfonietta. Hansen has a masters degree in classical percussion from the Norwegian Academy of Music, where he studied under percussionists Kjell Tore Innervik and Tomas Nilsson. Under these studies he emphasized and wrote a thesis on cooperation between performers and composers.
Jonas Cambien: piano
Ole Martin Huser-Olsen: guitar
Ole Martin Huser-Olsen, (b. 1986) is a Norwegian classical guitarist. He has an MA in Classical Guitar Performance from the Norwegian Academy of Music, where he was also awarded the highest mark for his concertant exam.
He has toured large parts of Norway, among which are a concert in Edvard Grieg's home Troldhaugen (2005) and annual recitals at Den norske opera – Oslo Opera House (2008-2011). He has held concerts in Los Angeles (2008), Helsinki (2010), the prestigious Centre Pompidou (2011) and again in Paris (2013).
Often heard as a soloist, Ole Martin also enjoys collaborating with other musicians, like renowned barytone Knut Skram, Ensemble Ernst, Ensemble Aksiom and many other up-and-coming young classical musicians in Norway. With his debut as an orchestral soloist in 2012, he has proven that he commands and has a passion for the richness of musical history, with a repertoire spanning from the Rennaissance to Modernism and reaching up to the freshest of contemporary music.
Vilde Sandve Alnæs: violin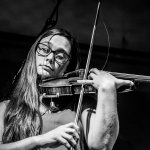 (Photo: Peter Gannushkin)
Ivan Valentin Hollup Roald: cello
Christian Meaas Svendsen: double bass
Christian Meaas Svendsen is born and raised in Kongsberg. He holds a bachelor's degree in jazz/improvisation from the Norwegian Academy of Music where he has continued with studies in classical music performance. His main projects include Duplex, KNYST! and Mopti, winning Jazzintro with the latter grop in 2012. He's also performing in folk music quartet ÄIO and together with Ayumi Tanaka and Per Oddvar Johansen in Ayumi Tanaka trio. Christian is also active as a solo performer, developing and using both traditional and new techniques, often with several bows and his own body as a point of departure. He's organizing the double bass concert series «BAX», as well as composing and arranging for most of the groups he performs with. As a musician, he is challenging and innovative, aiming at a unique sound in the meeting between the traditions of classical, contemporary, free and rhythmic music.